Oboe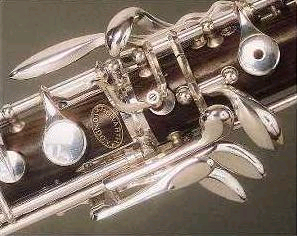 I started the Oboe on a rather interesting note. We were playing Holst's First Suite in Eb in Band in my Grade 10 year, and there was this long Oboe solo, which no one played, because there was no Oboe player. (Band was great that year... 1/3 was in the flute section, 6 were in the Trumpet section; and beyond that, 1 clarinet, 4 saxophones, only one of which showed up regularily, 2 baritones, 2 bass clarinets, and 4-5 percussionists...) So, being a flute player, and seeing little prospect at rising to first chair, I picked up the Oboe, followed the instructions at the beginning of the Standard of Excellence book, and played it in band two months later.
Understand that my method of learning Oboe wasn't always ideal. A month in, I asked the director why the Oboe seemed to be in a different concert pitch than I was told it was in. I was then told to tighten up the embouchre, which brought up the pitch as required...
Starting private lessons when I hit college, I learned a few mistakes. For instance, your teeth are supposed to support your lips in holding the reed to your mouth. This allows you to practice the instrument longer than 15 minutes...
Another mistake was that the Oboe is not supposed to sound like a duck. (As cute as it was during the concert we played Baby Elephant Walk.) Advice to younger Oboists without private teachers: the ideal Oboe sound can be achieved by blowing more air through the instrument. (A LOT more air...) Practice this way (but don't kill your band by playing this way in band practice), and eventually you'll be able to hit the same sound at a quieter volume. Of course, if it still sounds like a duck at ff, you may want to consider altering another part of your playing...
Since taking private lessons, I have been privileged to learn a few fairly decent pieces. So far, I've learned:
Sonata No. 1 -- Handel
Concerto for Oboe and Strings -- Cimarosa
Concerto in D minor -- A. Marcello
Having just finished juries, there are no pieces which I am presently working on, but that should change next lesson...
More anecdotes:
Never, ever, ever play Oboe in a recital when you warmed up 40 minutes ago. Seriously speaking, walk out with your instrument 10 minutes before you are to play and warm up then. I was playing the last movement of the Marcello Concerto for a recital recently, and I discovered I was six pieces into the recital. Having never experienced playing so late into the recital before, I did nothing but keep the reed wet and instrument warm. (Mistake...) Suffice it to say that I spent the first quarter of the piece playing as if I was warming up (and sounding rather badly).
I'm presently playing on the best reed I've ever had. It started off on the wrong foot, more or less ruining my winter jury, but after a while, it started to chip--and sound better. At present, five months after I started using the reed, the right corner is chipped off a quarter of the way across the top, and the left corner is chipped off a third of the way across the top. The two reeds are not evenly matched, and the big chip is slightly jagged. Yet, it produces the most wonderful sound (when warmed up). I'll try to get a picture of it up here.
If any of you Oboists ever get a chance to play the solo from English Folk Song Suite (by Vaughan Williams), consider yourself blessed. That has to be one of the most beautiful oboe solos ever written for band.